Canine CPD Membership Library  
If you are looking for high quality online continuing professional development (CPD) opportunities in canine physiotherapy, rehabilitation, hydrotherapy, aquatic therapies, massage therapies and proactive conditioning programmes, this CPD Library is perfect for you. Our bespoke resources are designed to support the advancement of canine clinical skills, empowering your services for the wonderful dogs in your professional care.
Our unique open-style CPD library interlinks 5 different Hubs consisting of accredited CPD resources. Each resource is a CPD event in itself with free certification. The Library is accessible on all devices and you choose the topic, set the pace and choose when and where you study. This immersive and progressive way to study aims to support your choices and advance your skills. 
We use a multiformat style with live webinar events, webinar replays, instructional videos, downloadable PDFs, referenced articles, one to one calls with Barbara and customised resources built for your easy and unlimited access. If you like our free Bitesize Canine Anatomy YouTube series, this membership opportunity to join our inner canine community, is the next step.
We pledge to build the best CPD membership library for canine professionals.
The Library currently offers 152 hours of accredited canine CPD covering individual topics catalogued in our 5 Hubs with a clinical perspective of each topic. It fits seamlessly into your life, around work and home commitments, with no travel, accommodation needs or hidden costs.
Library Hubs: Breed Biology Hub; Canine Functional Anatomy Hub; Clinical Assessment + Treatment Techniques Hub, Canine Conditions Hub; Articles + Research Hub
We are delighted our CPD Library was chosen as a "stand out case study" for MemberSpace! Check out this link: CLICK HERE
Inner Canine Community Membership for 2022 – 
3 months membership:   £59.97
12 months membership: £179.97 (25% discount)
We have maintained our 2020 introductory offer price due to the challenges professionals have faced and are experiencing due to the impact of living with Covid.
The membership fee provides you with unlimited access to; all 5 Hubs, live events, webinar replays, customised resources (past and current), instructional videos, free CPD certification and one to one with Barbara.
Accredited canine CPD by the Institute of Registered Veterinary and Animal Physiotherapists (IRVAP) and its subgroup the Institute of Canine Hydrotherapists (ICH).
"The K9HS Bitesize Resource Library is amazing! Barbara and team have really outdone themselves creating an organized collection of detailed, useful information related to dogs for canine professionals.
I love the "OneShot videos" that demonstrate therapeutic palpation techniques and appreciate the article hub, which contains pertinent scientific studies and reading lists.
These resources are helping me solidify my knowledge and grow my "clinical skillset" so I can make a positive impact in the lives of my canine clients and their owners."
– Amanda Jones, Pawsitive Flow, Ohio, USA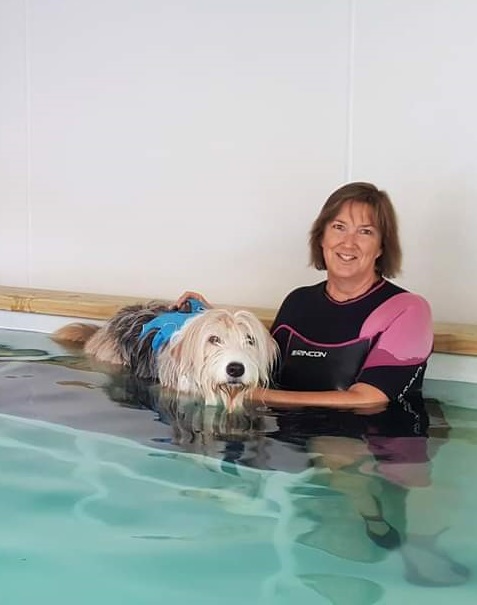 "The K9HS Resource Library is an excellent source of information for all hydrotherapists and canine therapists.
To be able to find so much exciting and varied topics in one place for your CPD requirements is so helpful.
It also makes it so easy to be able to refer back and find sound clinical reasoning and helpful clinical tips."
– Karynne Penfold, K9 Aqua Ltd, Auckland, New Zealand
"As a busy working clinician, it's always challenging to find professional development resources that are clinically relevant and flexible to access! The K9HS Bitesize Resource Library is just that: a "one stop reference shop" where you can go for 10 minutes or 2 hours and come away having either learnt something new, or been prompted to reflect and challenge your own clinical approaches.
There is a vast amount of information available from in-depth anatomy, to canine conditions and breed biology, but unlike many other CPD courses, it's also incredible value for money and is presented in a dynamic and clinically relevant way. This includes a whole section on Therapeutic Handling techniques and canine behaviours. The theory is also supported with lots of videos and links to research papers as well as further recommended reading. This format not only allows you to go back and review the information, but helps direct you to further enhance your own learning experience. On top of all that every library member can influence what topic is added fortnightly by making suggestions of what they would like to learn more about!
The layout is clear and very user friendly (I access it a lot "on the go" from my phone!) and I can genuinely say that it has already had a positive impact on my clinical practice. I would highly recommend it to anyone!"
– Susanne Pender, Chartered Physiotherapist, Veterinary Physiotherapist & Advanced Canine Hydrotherapist Paws4Rehab, UK
"I cannot recommend this amazing resource library enough, whilst we want to learn, refresh, obtain more information it tends to be long days of cpd which include travel and time and cost, and not always suited to our learning style.
This library enables you to learn and refresh at your own speed and to delve deeper into the subjects of your interest, furthermore its affordable and if your like me, being relaxed and comfy assists me to achieve an enriched learning pathway that relates to my clinical practice.
So, sign up, get comfy and be ready to learn from this amazing resource"
– Amy Loveless Advanced Canine Hydrotherapist H2O Canine Therapy Ltd, Somerset, UK
" The K9HS Bitesize CPD Library enables me to study and watch topics again. I am dyslexic and so I find it necessary to learn and re learn topics. Being a library member enables me to learn at my level and speed. The images and how the information is explained in the topics is easy to follow and understand. 
I also can contact K9HS if I am struggling or need extensions on work. Barbara always makes me feel relaxed and she will always find ways to help me comprehend the information and makes learning easy and relaxing, with no stress or pressure. 
The Library is a great resource for revisiting topics and working at my pace and time. K9HS care about helping me succeed and get the most out of my hydrotherapy knowledge and CPD. Thank you Barbara you are our hydro Guru!"
Janette Slade
Canine Hydrotherapist
"An animal massage colleague turned me on to K9HS in the spring of 2020 and I am so glad. Once I viewed a couple of the Bite sized Canine Anatomy webinars, I was completely hooked and subscribed to the Resource Library. As someone of moderate experience in small animal massage, the K9HS resources are invaluable, especially since in-person education is on hold for the foreseeable future.
The resources are a quick and easy time commitment and presented in a wonderful manner. Because each seminar is focussed on a particular topic, they are easy to digest without being overwhelmed by too much information. I now find myself thinking back to a video as I work with a dog ("a ha!" moments).
I know that my more experienced colleagues enjoy the resources too – credit to Barbara and crew for making the materials so enticing and relevant to those of all levels of experience. I look forward to each live webinar and have yet to be disappointed. Two paws up from me!"
– Gerri-Lyn, Mutt Massage, British Columbia, Canada