SEG Awards ABC Level 4 Diploma in Canine Hydrotherapy
This NEW Ofqual regulated L4 Diploma is the perfect progression to advance your clinical skills from your L3 Certificate in canine hydrotherapy. Our registration process ensures we meet your specific needs and answer all your queries.
To achieve the L4 Diploma in canine hydrotherapy you need to build 37 credits from the units provided. The total qualification time (TQT) for the Diploma is 365 hours and each unit represents a specific number of credits.
You choose the unit you wish to study, when you wish to start and steer your training programme to work at your pace. You have up to 3 years to complete your qualification and can build your award one unit at a time.
Our very flexible modular format recognises the career value in offering you the opportunity to use each Unit as a discrete "mini course" so it provides a great training experience to meet your professional CPD requirements, as well as bank your credits with ABC Awards.
L4 Diploma units to build your award
You choose your unit combination and plan your own learning pathway. Unit fees are divided into 2 parts; an online component fee and a practical Masterclass component fee, to offer flexibility.
How it works:
Each Unit explores advanced practice and is comprised of 2 components:
Online Studies
Our bespoke online Manuals cover the theory part of your chosen unit. Each Unit Manual is packed full of our unique instructional Canine Technical Videos (K9TVs + OneShots) showing each technique in high definition detail.
The Manual also includes video links, scripted information in useful sections, downloadable PDFs, guided tasks, clinical guidelines and useful clinical tools and top tips.
In person practical Masterclass (MC)
Each advanced technique unit offers you a 2-Day Masterclass with a one to one training experience. This includes real canine cases and a workshop style training to advance your clinical skills. Plus you have 3 months access to our new online K9HS Practical Training Hub full of practical videos, skills and clinical tips.
The advanced water management unit has a 1 to 1 video call and 3 month access to the K9HS Training Hub.
online component units & fees
Units available to choose from:
Unit 1 Advanced Canine Aquatic Treadmill Techniques (15 credits) – £297
Unit 2 Advanced Canine Hydrotherapy Pool Techniques (15 credits) – £297
Unit 3 Advanced Hydrotherapy Water Management Strategies + Solutions (8 credits) – £297
Unit 4 Advanced Hydrotherapy Treatment Techniques for the Senior Canine Patient (9 Credits) – £297
Advanced Hydrotherapy Techniques for Canine Fitness + Conditioning (8 credits)
Advanced Hydrotherapy Treatment Techniques for the Canine Orthopaedic Patient (9 credits)
Advanced Hydrotherapy Treatment Techniques for the Canine Neurological Patient (9 credits)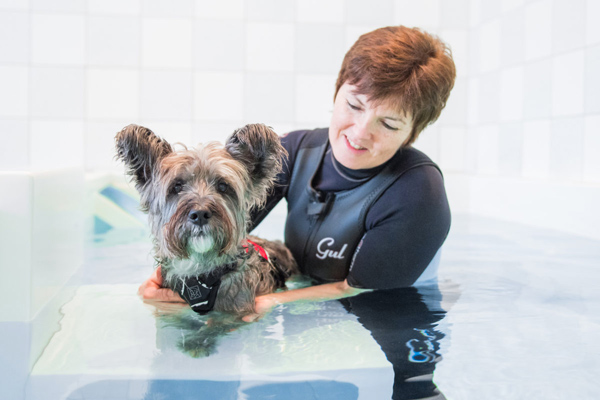 When you purchase a unit, we offer you an extra free resource where you can review the new canine anatomy and canine physiology units from our SEG Awards ABC Level 3 Certificate in Canine Hydrotherapy. 
 UNIT ONLINE COMPONENT
This includes a 
bespoke online course for each unit
, packed full of resources and information to progress 
your scientific knowledge and integrate with your clinical skills
.
Each Unit course includes 
our 
instructional videos (K9TVs + OneShots), useful video links, scripted information in helpful sections, c
ase summaries, clinical tools, dow
nloadable PDFs, useful c
linical tips, guided tasks, workbooks and quizzes. 
This aims to support your knowledge development set out in each Learning Outcome (LO) and fully integrates to your Practical Masterclass, to advance your skills in canine hydrotherapy.
Online support is provided by one to one booked calls with Barbara and free access to our K9HS Community Group, which is full of additional resources and a place to chat with other like minded therapists. We provide unlimited access to our online course materials and instructional videos, plus we have Information Tracks on our website Resources page and regular new content on our K9HS YouTube Channel. 
Unit fees are divided into 2 parts to offer flexible payment, the first payment is at registration for the online component and the second payment is due when you book your practical Masterclass component.
Each unit exploring advanced clinical techniques links your online training with your practical Masterclass at K9HS. This combination offers an intensive hands on training experience to build and expand your therapeutic tool box of clinical skills, to find solutions for the complex canine cases in your professional care. Plus you are offered 3 months access to out new online K9HS Practical Training Hub.
Unit 3 Advanced water management links your online learning to a 1 to 1 remote Practical and video call, plus 3 months access to our new online K9HS Practical Training Hub. We use live webinars, professional discussion and interactive workshops to find solutions for successful and safe practice, to achieve an advanced status in this topic.
You choose when you start your online studies and when you wish to attend your Masterclass practical. Masterclass dates are available upon request and you book your practical component once you have completed 80% + of your online Course Manual, to ensure you get the most out of your practical training.
We begin the process with an informal interview to learn about your career experience and needs, to make sure we can offer you the very best training opportunities. At the interview stage we may recommend to consider attending a Clinical Placement day prior to your Masterclass. This has an additional fee and is to ensure you optimise your learning pathway and successfully achieve your goals of providing the dogs in your professional care with the best treatment avalable .
In-person Practical Masterclass
In the Masterclass you'll take your learning to the next level and link the theory to a range of advanced practical skills, to progress your hydrotherapy practice.
The second component involves completing your Practical Masterclass, with small groups of 2 course participants to 2 instructors. This amazing ratio ensures a one to one training experience with veterinary physiotherapists who specialise in advanced canine aquatic and hydrotherapy practice.
Our practical enriched training is perfect for those who enjoy exploring techniques using a hands on learning approach. We facilitate the link between the theory and practical skills so you know the "why" of your treatment choices and ensure your service is both up to date and the best service you can offer the dogs in your professional care.
Research identifies this training approach of ongoing support, clinical reflection and hands on experiences with highly qualified clinical instructors, leads to significant progression of your clinical skill acquisition.
You are mentored by Barbara who was the first UK accredited clinical educator in veterinary physiotherapy. Barbara and her lead physiotherapists are all advanced clinical specialists in canine hydrotherapy and physiotherapy practice.
Current practice is about devising an individual treatment programme based on your assessment findings linked to clinical reasoning skills and a strong scientific knowledge base. Delivering an advanced clinical service to your canine clients, leads to improved lives for dogs and their owners, making a real difference that is long lasting.
As the first UK approved training provider for this qualification, we look forward to sharing advanced skills with you using our fully integrated and practical enriched training. 
In-Person Practical Masterclass
K9HS, Suffolk is your location for your Practical Masterclass for Units 1, 2 + 4
Active Balance, Leics will be the location for the Canine Fitness + Conditioning unit (coming soon).
Location: K9HS, Suffolk, UK
Instructors: Barbara Houlding
GradDipPhys, MScVetPhys, MCSP, FIRVAP(VP)(ICH)
ACPAT Canine Veterinary Physiotherapist + Advanced Hydrotherapist
Sarah Ward                                                                                                                              L3CertHydroSA, RVN, PgCertSART, MIRVAP(VP)(ICH)
Canine Veterinary Physiotherapist, RVN + Advanced Hydrotherapist
You have to complete an informal interview and accept our terms + conditions before registering on your Level 4 Diploma unit.
Practical Masterclasses 2021
All practical L4 Masterclasses are booked individually with Barbara and are usually monthly on a Friday or Saturday.
Book your interview by emailing Barbara at: info@k9hscourses.com
 UNIT 1, 2 or 4
2-Day Practical Masterclass + 3 month access to our online Practical Training Hub 
£497
includes 1 to 1 hands on training 
Units 1, 2, 4 Advanced treatment techniques to include Therapeutic Handling, Therapeutic Touch, Clinic Enrichment, Movement Shaping, Aquatic Myofasical Release, Clinical Massage, Therapeutic Alignment, Proprioceptive Paw Placement (PPP) and Therapeutic Showering techniques.
UNIT 3
1-1 Remote Practical + Video Call, plus 3 month access to our online Practical Training Hub 


£147
Includes 1 to 1 Video call 
Unit 3 Water Management covers: Finding solutions and raising standards in your centre water management: Explores plant and centre design issues for an efficient and profitable business, develops strategies, protocols, procedures and appropriate record keeping.
Book your interview by emailing Barbara at: info@k9hscourses.com
Unit 5: Advanced Hydrotherapy Techniques for Canine Fitness + Conditioning
Location: Active Balance, Hinckley, Leics
Instructor: Maria Johnston, Agility Team GB Veterinary Physiotherapist        L3CertHydroSA, TTouch P3, APDT, CBWA, AdvCertVPhys, FIRVAP(VP)(ICH)
2-Day Aquatic Clinical Masterclass
2 Course candidates, 1 Instructor
You will work with a range of athletic dogs including agility dogs to expand and advance your practical clinical skills.
Practical Masterclass 2021
This unit is coming soon
Unlimited free access to our K9HS Courses Community Group
Our training is flexible and fits around your specific needs. We offer you free access to our Courses Community Group for support, mentoring and extra resources throughout your training and for as long as you wish afterwards.
We wish you every success during your studies with K9HS Courses and that you enjoy every part of your canine career journey.
 HOW does it work?
We aim to provide you with an enriched and positive learning experience to achieve a pass in both the practical and theory components of your chosen unit. You may require further support to achieve your pass grade in either the theory or practical and we can arrange additional time to achieve this (at an additional fee).
You choose when you start your studies
Our flexible course means you choose your start date. You also book and select which dates you wish to attend your Practical Masterclass which run monthly all year. Once you book and start your online component, you can then book your preferred Masterclass dates to fit around your work and home commitments.
You choose your study pace
You can fast track your training by completing your studies in a time that works for you and you have up to 3 years to achieve the full Diploma award. If you require an extension this can be arranged on an individual basis.
We provide you with all the resources you need, plus a Unit Workbook to use to complete your set assignments. You will receive continuous support throughout the course to make every step along the way work for you.
During your face to face practical you will have access to additional resources. Once you have completed both unit components and your assignments, you will be ready to submit your work for marking and moderation, through our easy online system. 


Who is this Course for?
We have designed this course to be perfect for holders of the Level 3 Certificate in Canine Hydrotherapy or equivalent. This course is ideal for canine therapists wishing to progress and advance their clinical skills and hydrotherapy service.
Book your interview by emailing Barbara at: info@k9hscourses.com
I completed my L4 Advanced Treadmill Unit with K9HS Courses, under the guidance of Barbara and Sarah. They both offered me support through the theory-based studies with online discussions and communications between myself and them to reach specific goals and understand the criteria. During my practical Masterclasses, I was able to evolve my skills within the treadmill, focusing on static and functional treatment techniques with different cases.
This improved my knowledge linked to advanced practical skills and techniques. I learnt a huge amount during my time with them, not only building on my terra and aquatic Therapeutic Handling skills but also working on specific sensory and touch-based work. This makes for a much more holistic and powerful treatment for each canine case and I have already taken these skills into practice within our clinics.
Jess Pearce
Snowy's Canine Therapy Centre
Take it from one who was fortunate enough to find these wonderful people. If you're passionate about helping dogs and you feel it's your calling to be a Hydrotherapist, you'll want/need to get the best training possible. The best you can get is with K9HS. It's not just the coursework. You'll be in the pool learning hands on from the most qualified, inspirational and passionate instructors to be found anywhere. K9HS is the gold standard in Hydrotherapy training. Trust me. I was a student and now I have my own centre. Prepare to be inspired!
Derek Richards
Hollywood Houndz Hydrotherapy Services