Canine First Aid +
Health Checks
This new Canine First Aid + Health Checks course is perfect for therapists and dog carers seeking a refresher first aid course. It offers you essential practical skills and information to ensure you can offer the best care to the wonderful dogs in your life and work!
The course is packed full of content with everything you need to know. You have continuous access to our unique instructional Canine Technical Videos (K9TVs) that integrate real practice with detailed technical skill demonstrations.
The course consists of two units that total 8 guided learning hours (GLH) and you have full access for one month. Both units have guided tasks to complete, which include you recording videos where you demonstrate practical techniques. These tasks are then submitted online for marking and moderation. On successful completion of these units you will receive your Level 3 Certificate of Achievement in Canine First Aid & Health Checks.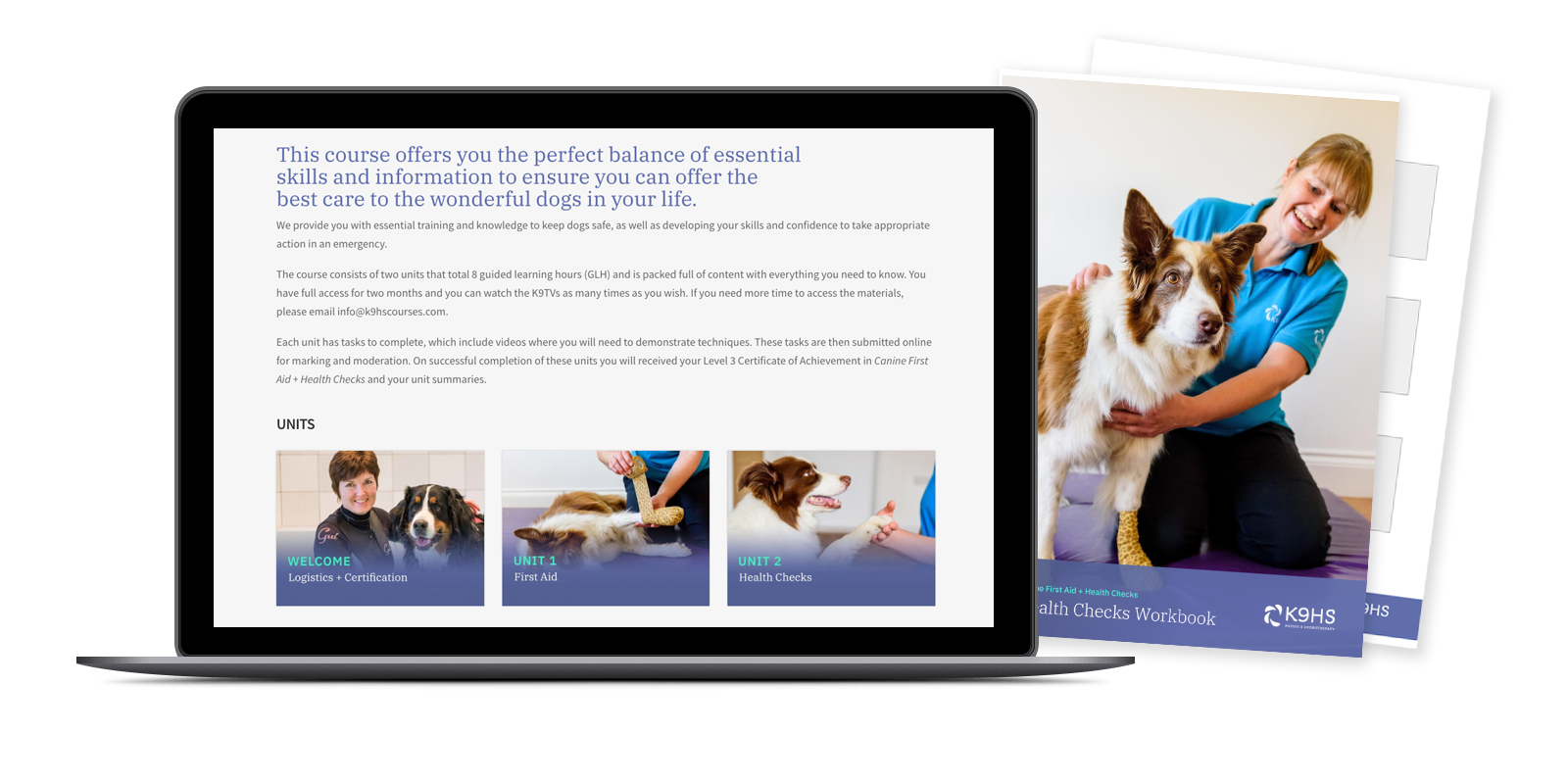 Learn advanced techniques with real dogs in real clinic environments 
Our K9TV videos integrate real clinical practice with detailed technical skill demonstrations of a wide range of advanced hydrotherapy treatment techniques.
All the K9TVs are supported with top clinical tips, downloadable resources, case studies, useful templates and informative links. You choose when and where you study, at your pace and on your terms. You can watch each video as many times as you wish and the course is fully compatible with Apple and Android on mobile, tablet and computer.
Who is this course for?
This course is ideal for anyone working in the canine industry as well as owners and trainers. It covers practical and theoretical requirements for canine first aid and healthcare. You will gain a comprehensive understanding of the primary and secondary survey requirements for immediate response and effective action to safeguard the lovely dogs in your care.
Accreditation
Level 3 Certificate – Double Accreditation Status
Accredited & Certified: QLS ABC Awards & Certa Awards
Accredited: Institute of Registered Veterinary & Animal Physiotherapists (IRVAP)
Course Units
The course is £110 and includes access to 2 units:
First Aid
Health Checks