Advanced

Certificate in canine

Hydrotherapy Treatment Techniques
This online course is perfect for canine therapists in practice.
Do you wish to progress your hydrotherapy treatment techniques? Advance your canine clinical skills and expand your "therapeutic treatment toolbox" for the dogs in your professional care.
Our bespoke course was devised specifically for canine therapists to progress their knowledge and fully integrate this with a range of advanced clinical skills. The course uses a multi-resource format which includes our innovative and unique instructional Canine Technical Videos (K9TVs + OneShots), useful video links, scripted information in helpful sections, case studies, clinical tools, downloadable PDFs, workbooks, clinical tips, quizzes and guided tasks.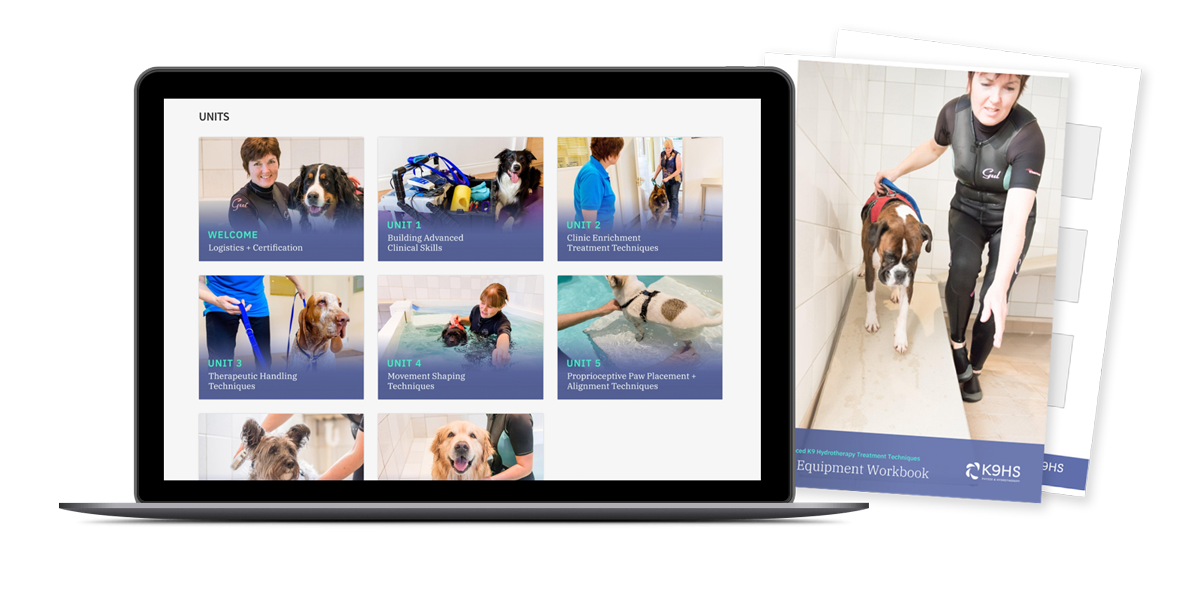 Observe and experience advanced treatment techniques for working with dogs in canine hydrotherapy. 
Our instructional Canine Technical Videos (K9TVs + OneShots) show real clinical practice supported with detailed instructional clinical skill demonstrations of Canine Movement Enrichment techniques. 
These canine specific techniques have a very high rating value of canine proprioception and significantly improve the dogs natural balanced stance, coordination, postures and natural balanced motion.
By working with the dog holistically and with their consent, these techniques improve their land based movement and functional abilities, using active engaged techniques. This results in noticeably improving the quality of canine movement and leads to happy, healthy dogs.
We build on your level 3 and 4 canine hydrotherapy training and explore advanced clinical skills to offer best practice to the complex orthopaedic, neurological, elderly and musculoskeletal canine patient. Effective canine conditioning and fitness work embraces the concepts of these advanced techniques and proven concepts, achieving consistently excellent results.
All our K9HS Courses videos are supported with clinical instruction, downloadable resources, case studies, useful templates and informative links. You choose when and where you study, at your pace and on your terms. You can watch each video as many times as you wish and the course is fully compatible with Apple and Android on mobile, tablet and computer.
Course Units
When you purchase the complete course, you have access to all six units which are released weekly over a period of six weeks. This includes the offer of joining our K9HS Courses Community Group and having one to one support with Barbara.
We use a spiral curriculum across the course to fully integrate all six units. We have a flexible offer where you can purchase the complete course, or you can purchase Unit 1 first and then proceed to purchase Unit 2 – 3 – 4 – 5 and 6 as a package. 
The six units are stand alone topics, as well as brilliantly dovetailing with each other as you systematically progress through the course from Unit 1 – 6.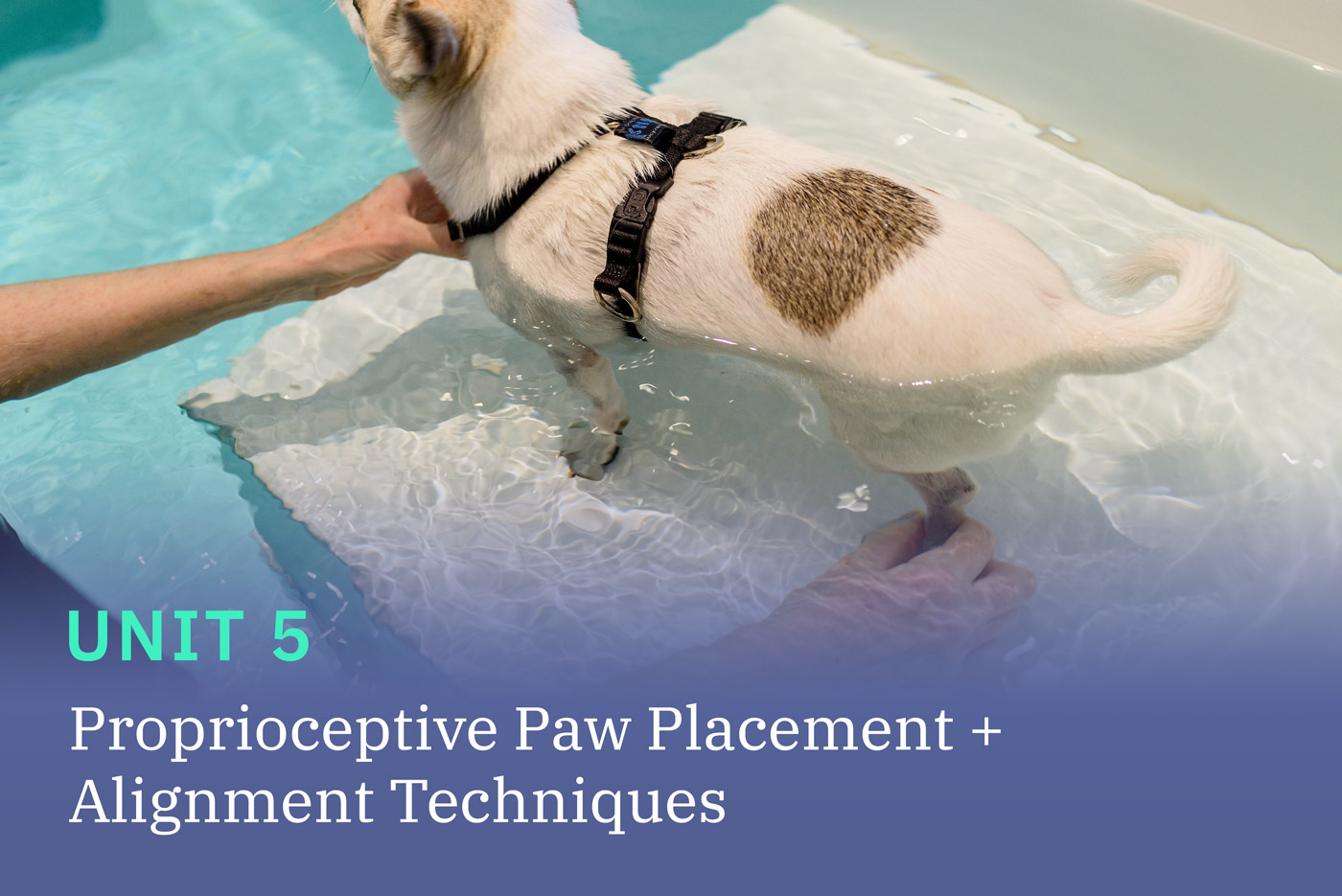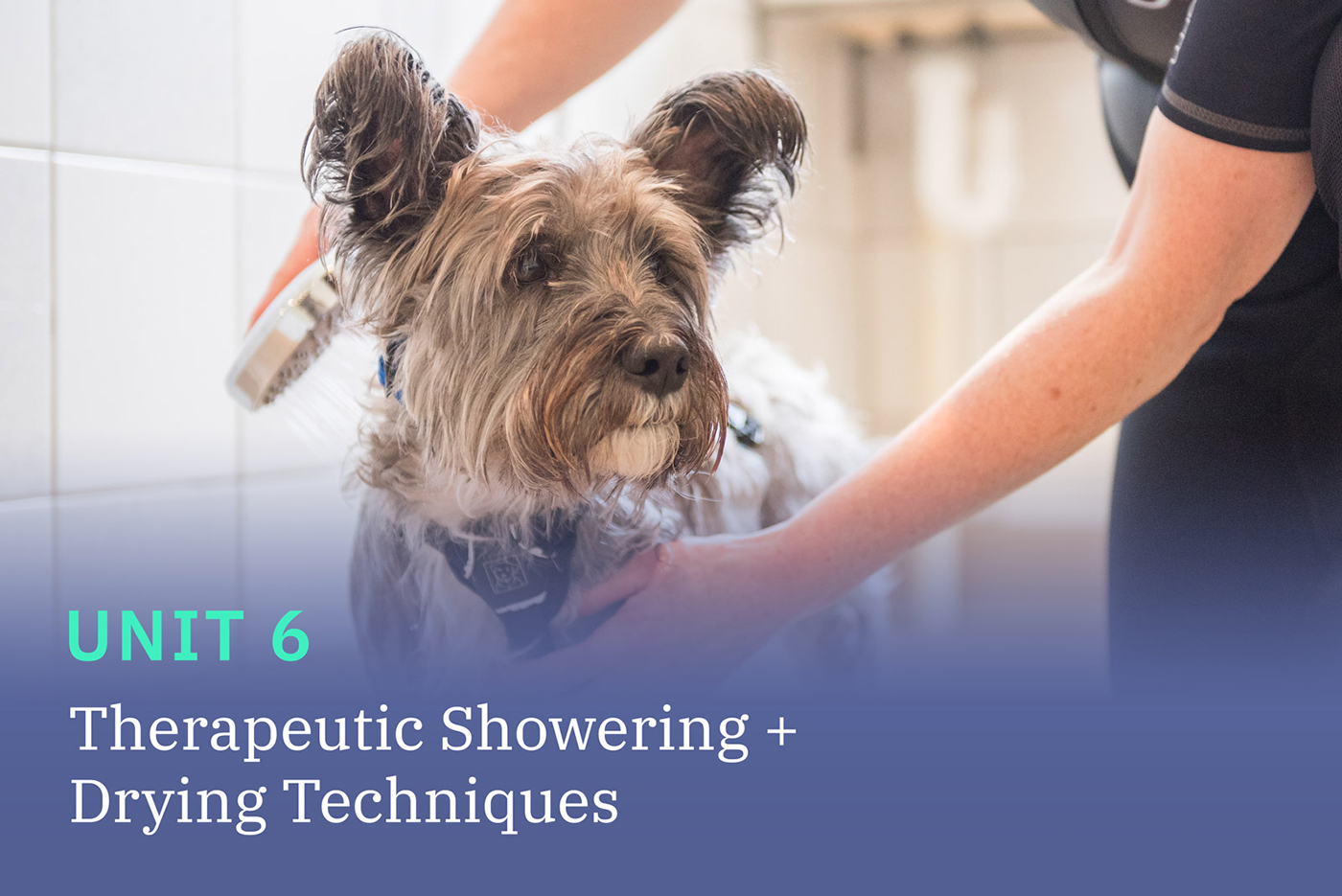 When you purchase the course, we offer you a bonus free package of canine functional anatomy. This review consists of the two canine anatomy and physiology units from our own SEG Awards ABC L3 Certificate in Canine Hydrotherapy.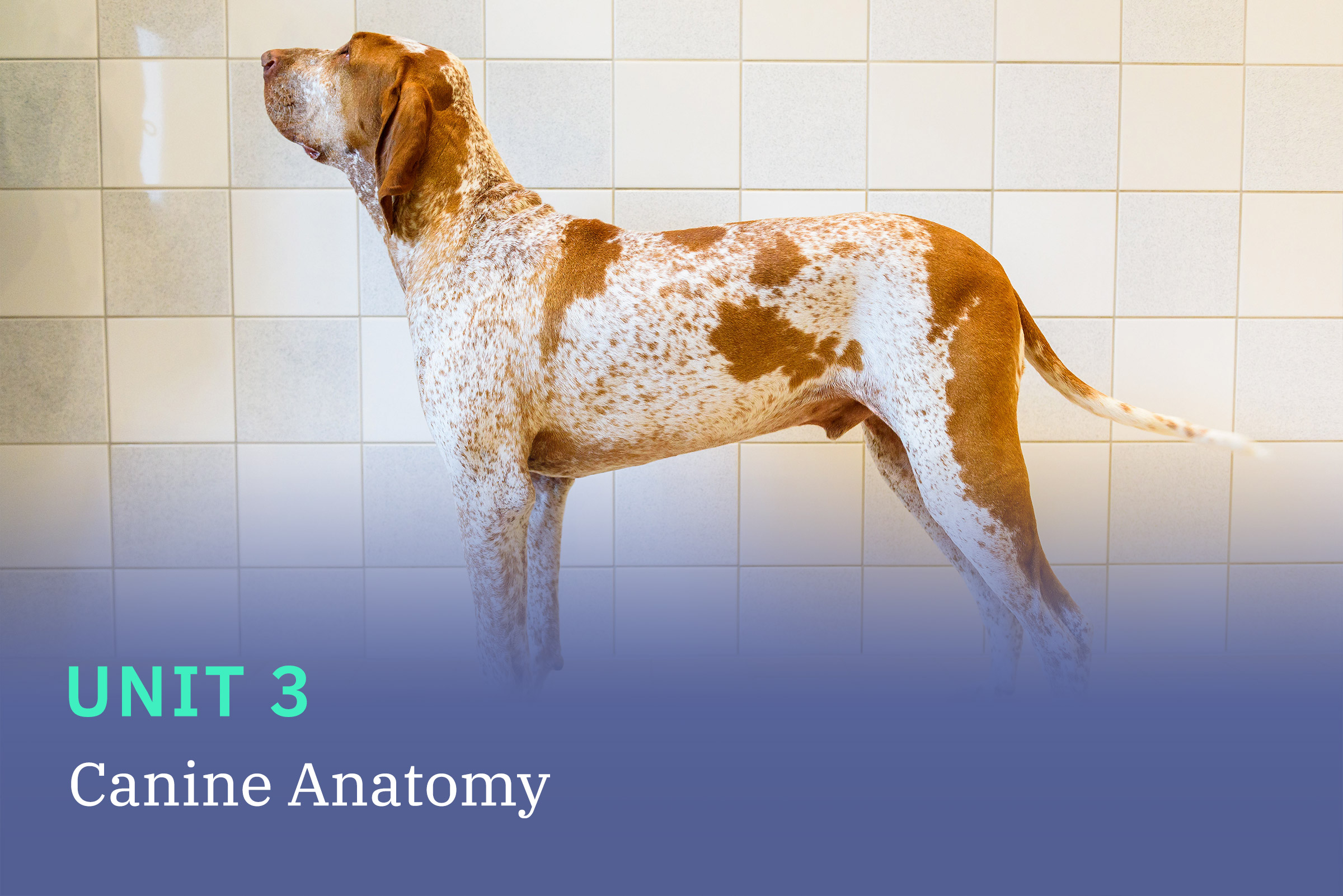 To start this course, the next step is to fill out our online application form by clicking on the Ready to Enrol button, agree to our terms and book a discovery chat with Barbara Houlding. This ensures that the course is a good fit for your needs, discuss your canine clinical experience and answer your questions.
Unsure if this course is a good fit for you, or have questions or concerns? Wish to book an interview?
Email Barbara: info@k9hscourses.com to book your discovery chat and for more information.
What assignment tasks are required?
The course requirements include answering questions within downloadable workbooks provided for you in the course materials.
Some of these tasks may require you to identify and discuss muscles and their function, devise therapeutic equipment lists, complete projects and provide written case summaries of canine cases you've worked with.
In a number of sections of each unit you will be asked to record a short video of yourself implementing specific treatment techniques to demonstrate your skills and understanding. You will have workbooks for each unit to complete and electronically upload.
Who is this course for?
This course is ideal for canine hydrotherapists, physiotherapists, animal therapists, veterinary nurses and veterinary professionals wishing to advance their hydrotherapy clinical skills.
We strongly recommend as a minimum that you have completed the SEG- ABC Awards Level 3 Certificate in Canine Hydrotherapy or equivalent.
Level 5 Advanced Certificate pricing –
Complete course of 6 units – £1497 (2-payment plan is available)
Unit 1 single purchase – £297 
Follow on units 2 to 6 – £1497
Following your application and interview, you will be redirected to the QLS Level 5 acceptance form and link to purchase this online course. you choose whether you wish to purchase the complete course or start with the flexible Unit 1 package. The link is where you will finalise your purchase and use to register onto our learning platform, to access the course materials. 
1. Click on the Ready to Enrol button and complete the form
2. Email Barbara to book your chat and ask your questions: info@k9hscourses.com
3. Receive an email from K9HS with the purchase links for the Units of your choice
Not sure if this course is a good fit for you, or have questions/concerns?
Email and book a call with Barbara for more information.
This endorsed course consists of six units and 245 course hours of  study, with a flexible format that provides you with choices. You choose when and where you study, so it is on your terms and fits around your work and home commitments. There are no travel costs or hidden extras and we bring all the resources to you, wherever you are based.
We offer you different study options to choose from, so you can build your level 5 Advanced Certificate over a time frame that works best for you;
 You can decide to purchase and study Unit 1 first and have one year to complete your studies

You can chose to fast track your studies and purchase the complete course of six units to study over a three year period. You can opt for a two part payment plan for option 2
You have unlimited and free access to our private online K9HS Courses Community Group to ask questions, join in conversation and access useful resources and  links
To achieve your Advanced Certificate in Advanced Canine Hydrotherapy Treatment Techniques you need to successfully complete all six units. You will receive a Unit Certificate of Completion for each unit achieve. 
The course design integrates all six units so you have a coherent study flow from one unit to the next, to optimise your canine clinical skills advancement over the whole course. We feel it's important for you to enjoy your learning journey and feel supported and we use professional discussion on a one to one basis, working together to help you achieve your goals.
We share the latest techniques developed from proven clinical expertise and a sound base of science to expand your "therapeutic toolbox". This will optimise the hydrotherapy treatments you offer to the dogs and owners in your professional care, improving their lives.
 "Having qualified as a Level 3 Hydrotherapist, I wanted to extend my skills further and the Level 5 Advanced Certificate in Canine Hydrotherapy Treatment Techniques has certainly helped me to do this. The distance learning has been a perfect way to develop my knowledge, at my own pace.
The support I have received from Barbara has been excellent; this year has been challenging with Covid-19, but Barbara has helped me to continue with my qualification throughout. I must admit I was a little unsure about completing video evidence for this course, but the reinforcement of the knowledge by doing this has been incredibly beneficial and much easier to do than I anticipated.
Overall, the skills I have learnt during this course will help me to enhance my practice further and provide a more holistic treatment plan for my clients. I look forward to more K9HS courses in the future, thank you!"
– Abigail Pritchard, Level 5 Advanced Certificate in Canine Hydrotherapy practitioner
How advanced is the material?
The Level 5 material builds on the Level 4 Diploma in Canine Hydrotherapy. It dives into more depth to explore the science behind the advanced treatment techniques linked ot details of the application of each clinical tecnique. This assists a deep learning and clinical skill acquisiton to optimise your progression and expansion of your canine therapeutic toolbox.
Why can't I just buy the course?
This course contains advanced material and is accredited by IRVAP– ICH and endorsed by the Quality Licence Scheme, which means we must do our due diligence in making sure that course candidates fully understand the requirements and expectations of this course. We also want to ensure that the course is a good fit for your needs as a canine therapist. By filling out the online forms and completing a chat with Barbara, we can review your needs and ensure that this course aligns with your specific career goals.
What assessments do i need to complete?
There are no formal examinations. You have to complete a variety of clinical assignments relevant for advanced canine practice. This will include taking videos of your self demonstrating a technique, building annotated storyboards, writing case studies, clinical reflection and completing your Unit Workbook. Each assignment includes a professional discussion following your online submission of your work for marking and moderation.
do i need to buy books + additional learning materials?
We provide you with all the resources you need to achieve your award. Our resources are expansive and include our own instructional videos (K9TV and OneShots), video links, written resources, templates, case studies, downloadable pdfs, interactive seminars, reading list and ongoing support and mentoring through our private K9HS Courses Community. As an extra bonus we offer you free access to our canine anatomy and canine physiology units that are part of our Level 3 Certificate in Canine Hydrotherapy. This is ideal for you to dip in and out of as an extra review alongside your own level 3 notes you produced to achieve your L3 Certificate.
What if I need more time to complete my studies?
We know life throws curve balls every now and then, so if you find you need additional time to complete your unit or the course, you can request extenuating circumstances (IC).  You need to formally apply in writing to Barbara for an agreed extension period and we work with you to find a solution for your specific needs.
what is the quality licence scheme?
The Quality Licence Scheme is part of the Skills and Education Group, a charitable organisation that unites education and skills-orientated organisations that share similar values and objectives. This course been endorsed by the Quality Licence Scheme for its high-quality, non-regulated provision and training programme. This course is not regulated by Ofqual and is not an accredited qualification. We are able to advise you on any further recognition, for example progression routes into higher education. For further information please visit the Learner FAQs on the Quality Licence Scheme website.