Advanced

Canine

Hydrotherapy Treatment Techniques
This new online course empowers you to enhance your practical skills by learning the latest advanced hydrotherapy treatment techniques through a variety of video styles, case studies and guided practical tasks.
The course consists of six units that total 245 guided learning hours (GLH) and offers a flexible format that will work perfectly for busy therapists. You can choose to purchase and complete an individual unit over 3 months, building  your certificate in a timeframe that works best for you. Alternatively you can purchase the full course of six units to study over a maximum of 18 months and we offer this route to you at a reduced rate.
To achieve the Level 5 Certificate of Achievement in "Advanced Canine Hydrotherapy Treatment Techniques" you need to successfully complete 6 units.
If you choose to build your certificate award by completing units separately, on successful completion of each unit you will receive a "Unit Certificate of Completion". Once you have completed all 6 units you will then receive your Level 5 Certificate of Achievement in "Advanced Canine Hydrotherapy Treatment Techniques."
We have designed the course so that the six units flow coherently to progress and expand your skills and knowledge.  See the ideal order we recommend below in the listed course units.
By sharing techniques built on proven clinical expertise and scientific knowledge, we aim to empower you and your therapeutic skills, to offer the best service to the wonderful dogs in your professional care.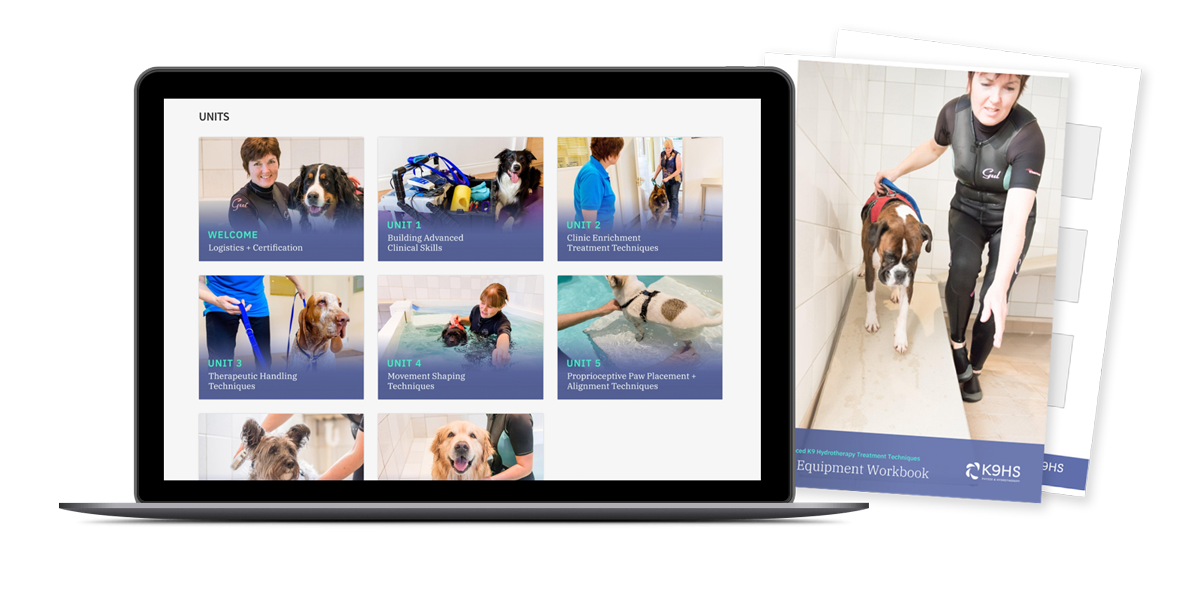 Learn advanced techniques with real dogs in real clinic environments 
Our K9TV videos integrate real clinical practice with detailed technical skill demonstrations of a wide range of advanced hydrotherapy treatment techniques.
All the K9TVs are supported with top clinical tips, downloadable resources, case studies, useful templates and informative links. You choose when and where you study, at your pace and on your terms. You can watch each video as many times as you wish and the course is fully compatible with Apple and Android on mobile, tablet and computer.
Course Units
The full course includes access to all 6 units which are released weekly over the course of 6 weeks. You can also purchase individual modules. Units included in this course include:
Building advanced clinical skills
Clinic Enrichment treatment techniques
Therapeutic Handling treatment techniques
Terra and Aquatic Movement Shaping treatment techniques
Proprioceptive Paw Placement (PPP) + Alignment treatment techniques
Therapeutic Showering + Drying treatment techniques
Select an individual unit below to purchase, or purchase all units as a package.
What tasks are required?
The course requirements include answering questions within downloadable workbooks provided to you in the course material.
Some of these tasks may require you to name and identify muscles, make equipment lists, and provide written case summaries of real dogs you've worked with. In several cases you will be asked to record a short video of yourself using specific techniques to demonstrate your understanding of the concepts, or upload workbook files with your answers.
Who is this course for?
This course is ideal for canine hydrotherapists, physiotherapists, animal therapists, veterinary nurses and veterinary professionals wishing to progress their hydrotherapy clinical skills and service.
We strongly recommend as a minimum that you have completed the ABC Awards Level 3 Certificate in Hydrotherapy for Small Animals or equivalent.
Single course units are £299
All 6 units are £1495
Accreditation
Level 5 Certificate  – Double Accreditation Status
Accredited & Certified: QLS – ABC Awards & Certa Awards
Accredited: Institute of Registered Veterinary & Animal Physiotherapists (IRVAP)
I have just completed my level 5 diploma in canine hydrotherapy at K9HS and I cannot express enough how inspirational and passionate Barbara Houlding is. Her delivery of course material is captivating especially her knowledge and enthusiasm for functional anatomy, a subject I never found easy to learn but once you have listened to Barbara you will absorb so much more.
Barbara and her team are taking hydrotherapy forward, promoting Movement Enrichment and Therapeutic Handling.
I highly recommend taking the opportunity to learn these treatment techniques. It has certainly advanced my delivery of hydrotherapy and I am already seeing the benefits with the animals I treat. I will certainly be looking forward to the next course at K9HS.
Amy Loveless
H2O Canine Therapy, Wellington, Somerset